My blog post for today will discuss my first day of volunteering at my NGO (Non-Governmental Organization) for my semester abroad in Perú.
One of the requirements (and benefits) of my study abroad program is that each student must meet a certain number of hours either through volunteering to work with a NGO (many of which have partnered with IFSA-Butler in past semesters) or doing an individual research project on a theme pertaining to Peruvian Social Reality. Each volunteer organization that partners with my study abroad program focuses on different aspects of Peruvian Social Reality, making it easier for students to find an organization that will be best suited for them and their own personal interests. The goal is that by the end of the semester, each student will have gained enough understanding regarding a certain theme in Perú to be able to develop and give a final report on this topic (this final report makes up a significant part of our final course grade in our Peruvian Social Reality class this semester).
Originally, I wasn't entirely sure about what I wanted to do for my volunteer work this semester while in Lima. I knew there was an option to go and work at the Huaca Pucllana (an archaeological site here in Miraflores – see my previous post "Miraflores – my home for the semester" for more info.). While I knew that the Huaca would've been convenient and a great experience I wasn't completely sold on the fact that it was going to be the volunteer work best suited for me. I was also thinking a lot about potentially what I may want to do after college and even though I'm really not at all certain at the moment about what that will be, I do know that a career in teaching might be a possibility. For a teaching career, I know that having experience with working with kids is never a bad idea. This is one of the reasons that ultimately led me to choose to volunteer at the Hospital de niños in San Borja.
The Hospital de niños is located in San Borja in Lima. The children who come to this hospital are mostly from poorer areas of Lima or are children who have been referred to this hospital from other hospitals within' the country. These are children who need serious medical attention and most likely have come to the hospital in San Borja because it is one of the few hospitals in the region where they can receive this kind of proper care.
As a volunteer at the hospital, my job is quite simple yet still extremely rewarding. Basically, we just have to entertain the children as they wait for their appointment in the hospital. Upon arrival, we (myself and the two other volunteers from my program who come on Fridays) are asked to bring small tables and chairs to the hospitals' waiting room along with some materials for drawing/coloring and playing games/assembling puzzles. While the kids are in the waiting room with their parents, we as volunteers supervise the kids as they color in drawing print-outs or assemble puzzles that we've provided them with.
Since the parents of the kids are there with them, we as volunteers are not really in any way babysitting the kids; however, we do interact with the children and make sure they are enjoying themselves while waiting to go in for their appointments. Going to a hospital can be a very scary experience and dealing with any kind of sickness is no fun so it made me really happy to see the many smiling faces of these children as they were coloring in their drawings this morning. Not to mention, the kids were all extremely creative. When we ran out of print-outs to color in at one point, several of the kids just took it upon themselves to use the back of the paper and make their own original drawings from scratch.
I am looking forward to returning to the hospital in the coming weeks as I continue with my volunteer program. I am particularly interested in learning about the children on a more personal level. I am also able to observe a lot from my surroundings when I am in places like this where I know that the children who are coming in come from more impoverished areas of the country. I will most likely add more blog posts later on to capture the details of my experiences at the hospital throughout coming weeks.
Here are some pictures from today's visit to the hospital.  I didn't take any photos of the kids in the waiting room as they were drawing because it didn't seem appropriate.
Oh yes, and I forgot to mention… being on your feet and working with kids for 3 hours straight definitely makes you hungry so I went to a "Chifa" (Peruvian Chinese Restaurant) along with the two other volunteers from my program afterwards. See photos below!
View of hospital de niños, San Borja from the bridge I walk across at Rosa Toro: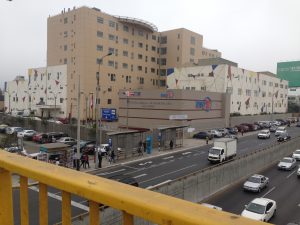 Ready for our first day of volunteering (the orange aprons are required for volunteers to wear so they can identify us while we are there):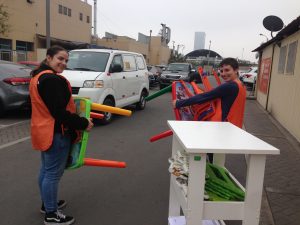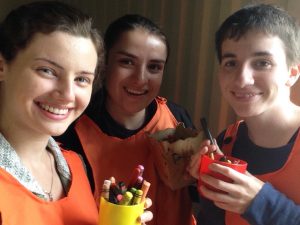 "Chifa" lunch afterwards… worked up quite the appetite: 
Sopa de Wonton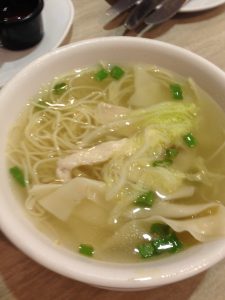 Chaufa con Frejolito Chino