So first off to begin this post (it's going to be a longer one this time, sorry for those of you who get bored reading), I just want to say I can't believe that another week has gone by and in just about three weeks from now I'm heading home! Everything is really starting to wind down and come to an end… Yesterday was actually my last day volunteering at the Hospital de niños in San Borja and Thanksgiving is already behind us. I won't be doing a whole post about how we celebrated Thanksgiving here in Perú; however, I will say that we did have a little dinner with my study abroad program and our host families were invited to attend as well. Although it was definitely different being so far away from my home this year for Thanksgiving, it was really nice that my study abroad program made sure to put something together for all of us who are so used to spending this holiday at home with our families and loved ones.
Anyways, as this semester is coming to an end and in just about a week I'll be starting to study for my final exams I realize how important it is for me to catch up on my blog posts now while the most recent experiences are fresh in my mind. I probably will be absent from the blog for a while starting this coming week as it's going to be an extremely busy time for me with my finals and everything. In good old Bryn Mawr College fashion, I'm for sure going to be making myself a "Done-Is Good" list so that I can be motivated to finish my semester here strong.
Now about the topic for this post: Pachacamac, El Carmen, and las Islas Ballestas! Last weekend was my final weekend excursion with my study abroad program and as a way to close our time here together we had a pretty relaxing trip to El Carmen in the Chincha province of Ica (the same Ica that I went to for a different weekend excursion back in October; however, Chincha is in a different part of Ica than Huacachina). Chincha and more specifically the district of El Carmen is known for it's Afro-Peruvian residents and culture. The main reason we went to El Carmen was to learn about this Afro-Peruvian population and it's traditions. During the weekend, we had the opportunity to learn a few traditional Afro-Peruvian dances (including one called zapateo). We also discussed other elements of Afro-Peruvian culture such as the music and instruments that are utilized. One of these instruments is a drum that is shaped like a box called a cajón and on Saturday we were given lessons on how to play the cajón (see photo below playing the cajón). 
I almost forgot to mention that on our way south towards El Carmen we made a stop at the archaeological site of Pachacamac located here in the southeast part of Lima. Pachacamac (in Quechua: Pachakamaq – "Earth Maker") was the name given to the creator god who was said to have lived in this part of Perú before the Inca conquest. There are many myths regarding Pacha Kamaq. Of the many pyramids that can be found at the archaeological site, the one that was most impressive to me was the Temple of the Sun which you can see in my photos below. This temple is 30,000m squared and we were actually able to walk to the Southern side of it during our guided tour.
Finally, on Sunday morning several of the students from my program had fallen ill (we still don't know the exact cause or reason why many people got stomach bugs; however, it was most likely food poisoning from dinner the previous night). The planned trip was to go to the Islas Ballestas in Paracas. Luckily, I wasn't one of the students who got sick so I was able to go to see the Islas Ballestas. The Islas Ballestas are a group of small islands located near the town of Paracas (in Ica). Paracas is a district within' the Pisco Province of Ica on the Peruvian coast. The islands are inhabited by many animals such as penguins, seals, and sea lions (all of which I got to see during my tour of the islands). The islands are also known as an important area for the accumulation of guano. Guano is the excrement from many seabirds and bats which is used as a fertilizer (it smells HORRIBLE and I blame the smell of it for making me feel nauseous and miserable during my tour of the islands). The tour we were given was by boat so while the boat was stopped at the islands I became a bit sea sick and nauseous, not only from the smell of the guano but also from the rocking of the boat. Despite my sea sicknesses (and I know you are probably wondering if I vomitted but I DID NOT), I don't regret my decision to go on the boat tour of the Islas Ballestas. It was really another wonderful experience and is one of the top visits that ecotourists take during their time in Perú.
Now I'll stop talking and leave you with some pictures from my journey.
Pachacamac: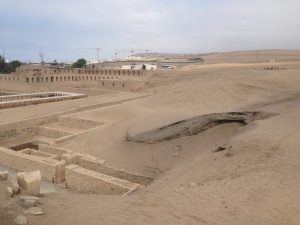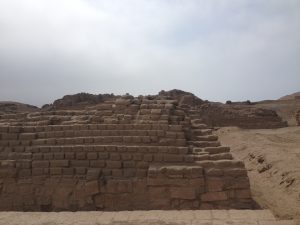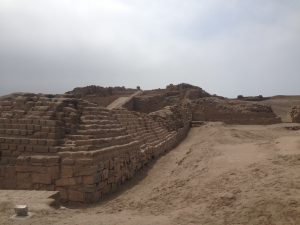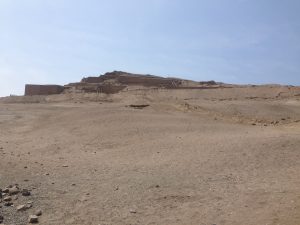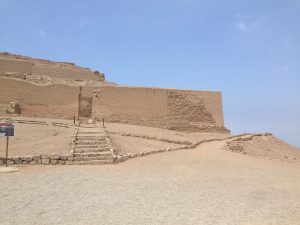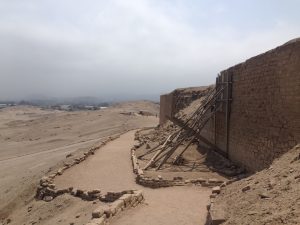 El Carmen, Chincha, Ica: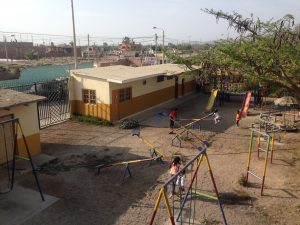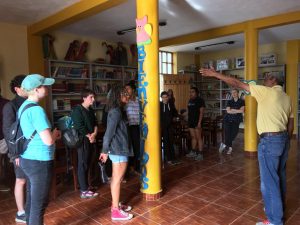 Learning to play the cajón in El Carmen: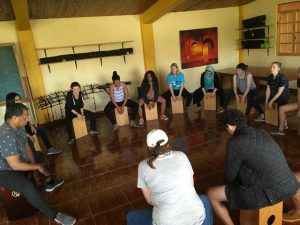 Boat tour at las Islas Ballestas, Paracas: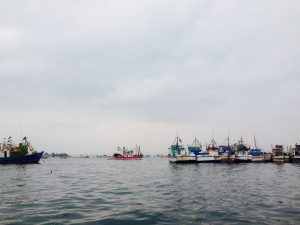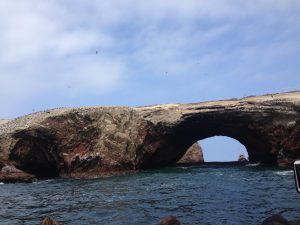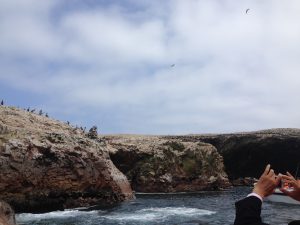 There are sea lions in this picture (although maybe hard to see):